Prepare yourself, this is going to be a loooooong post, and it is all about FOOD! I'm talkin' the good, the bad, and the just plain UGLY of the food at my house. If you read further, you will get a delicious recipe for a perfect easy-to-make fall soup, a great new way to make pumpkin seeds, updates on how the caramel apples turned out, and the monster that came from the back of the fridge! Are you excited?!

You


Should


Be!!!


Let's get right to the good stuff. Yesterday afternoon I decided we were in need of a warm and easy pick-me-up dinner. Nathan and I spent saturday afternoon cleaning up the yard in the cold, drizzly weather. So, at about 3:30pm, I put together this crockpot delight using whatever was in my kitchen. You should try it! It is DELICIOUS!!

Katy's Chicken Vegetable Crockpot Soup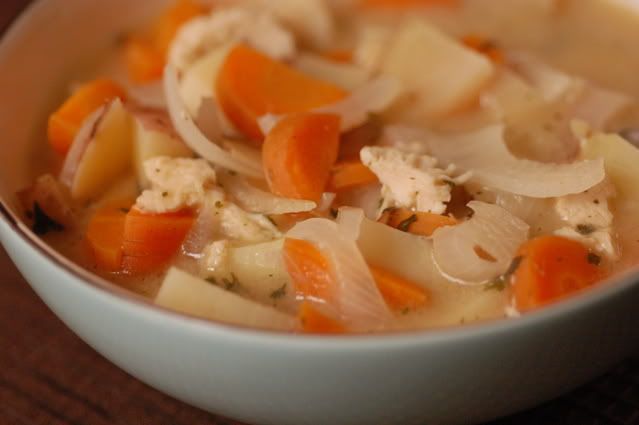 Ingredients:

1 or 2 medium size chicken breasts
4 large-ish red skinned potatoes
3 medium size carrots
2 or 3 small white onions
1 can cream of chicken soup
water
Paprika
Parsley flakes
Seasoned Salt
Salt
Pepper

1. Turn on your crock pot and put in your chicken whole. (I stuck my chicken breasts in whole and frozen, but if you're not in such a hurry as I was, you can cook and cut it if you want.)

2. Chop up the potatoes, onions, and carrots and throw them in the pot with the chicken.

3. Add in the can of cream-of-chicken soup, along with two cans of hot water using the cream-0f-chicken can. Stir until blended.

4. Add a generous dash of the parsley flakes, the seasoned salt, paprika, and pepper. Stir until blended.

5. Let the crockpot cook on high for about 2 hours, or (I am guessing on this) on low for about 4 hours.

6. Check the chicken after the time has passed, and if it is done, fish it out and cut it up into bite sized pieces. Also, make sure that your carrots are tender and done.

7.Stir the chicken back into the pot. Taste the broth and see if it needs any more salt, and if so, salt to taste.

8. Serve with a side of crusty sourdough toast! YUM!!

Makes about 4 hearty servings.

You know you want some ;)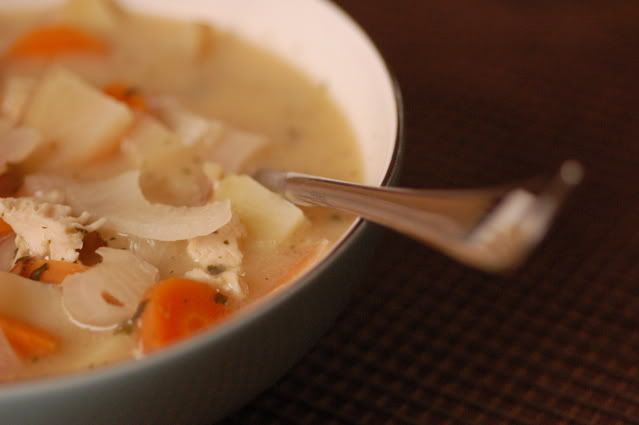 CARAMEL APPLE UPDATE!




The caramel apples I made were a complete success!! Upon Nathan's doubting request, I actually made 2 kinds of caramel apples for our halloween party. I made the honey organic ones that I included the recipe for in my last post, as well as a standard corn-syrup processed sugar and butter kind of caramel that Nathan said he knew he would like. Both turned out really well!!
The only thing about the honey caramel was that it was a little more finicky to make in the pot. I think I cooked it a little too long and didn't stir it enough, and so it got a little dark. This actually ended up being really delicious however! It added a more molassessy, nutty taste the the caramel, which was DELICIOUS! Below, you can see the difference between the processed sugar caramel and the lovely organic honey kind:



(by the way, Nathan finally admitted that the honey caramel was just as delicious, if not better than the other one.)

After I dipped the apples, I rolled most of them in crumbled up oreos or in crumbled up peanutbutter cookies. I copied this idea from the Rocky Mountain Chocolate Factory caramel apples, which are OUT OF THIS WORLD! They are totally worth the high price, at least once a year anyway.

Anyway, these apples turned out GREAT! I'm going to make more today for our great hometeachers. You should too!



Parmesan Pumpkin Seeds




So, even though I posted some other delicious looking recipes in my last post, when it came down to it I just made up my own. Hee hee. I did steal a few ideas from those recipes, but I really loved what I came up with!

Ingredients:

About 4 cups of pumpkin seeds
2 Egg whites
Parsley Flakes
Sugar
Seasoned Salt
Grated Parmesan cheese
Salt & Water

1. Bring a pot of salted water to a rolling boil and throw in your seeds. Set your timer for about 10 minutes and let those babies get nice and salty. This also cleans off all that pumpkin goop, so don't stress if you haven't been able to get them really clean.

2. Dump the seeds in to a strainer and shake as much of the water off of them as you can.

3. In a bowl, add two egg whites to your pumpkin seeds and stir generously. Then add in a couple of shakes of parsley flakes, about 1/4 cup sugar, and a couple of dashes of seasoned salt (be careful though, you already salted them pretty good with the water, so go easy.) Stir until it is well blended.

4. Lay the seeds out on a greased cookie sheet in as close as you can get to a single layer. Sprinkle them with the parmesan cheese and a little more of the parsley flakes (if you are obsessed with parsley flakes like I am, I think they make everything look so much prettier.)

5. Bake in a 450 degree oven for about 5-10 minutes. Watch them very closely though.. don't just let them go the whole 10 minutes without checking them a couple of times. When they are getting lightly brown, take them out of the oven and stir them around. Get them back into line with their single layer and pop them back into the oven for a few more minutes. When they are getting brown again, yank them out!

6. I like my pumpkin seeds on the chewy side, so at this point they are done! However, if you like yours on the nuttier crunchy side, stick them back in for a few more minutes until the desired brown-ness has been attained.

7. Enjoy! (I kn0w we did!)






I don't want to ruin your appetite or anything, but it is Halloween....

Yesterday, as Nathan and I were cleaning out the fridge, we found this little monster who had been lurking behind the milk for who knows how long. It was so freakish, we had to have a photoshoot....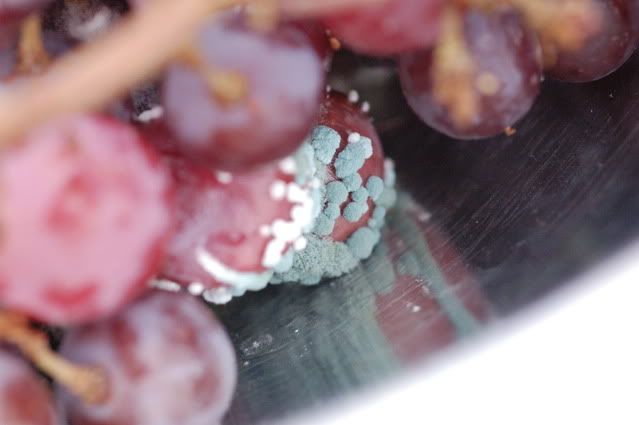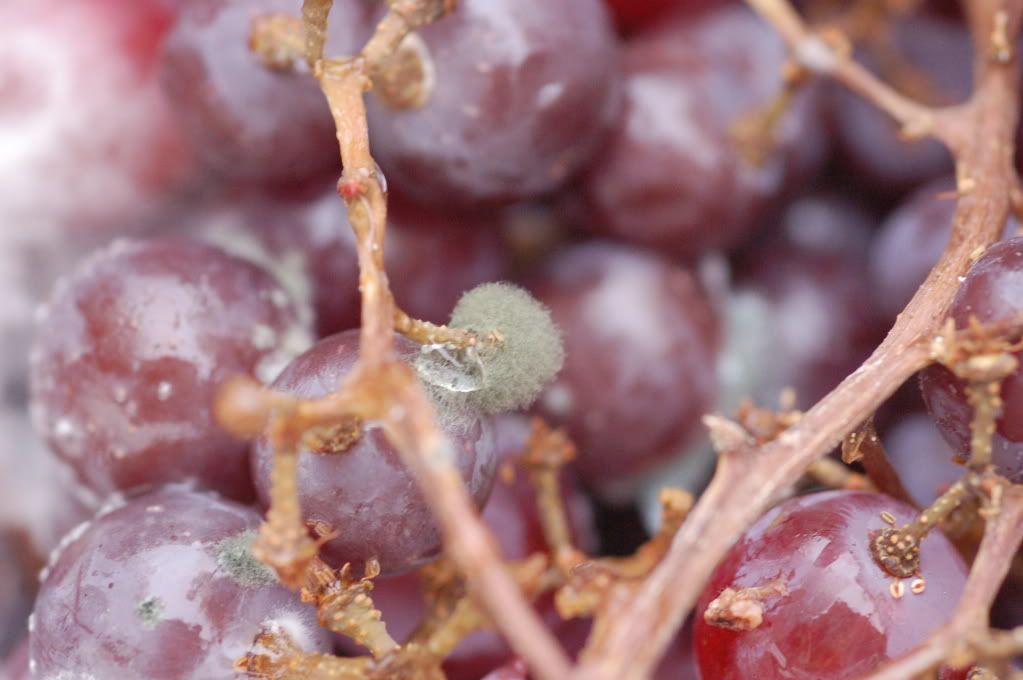 I think we counted 5 different kinds of moldy creatures in there. Oh the humanity.