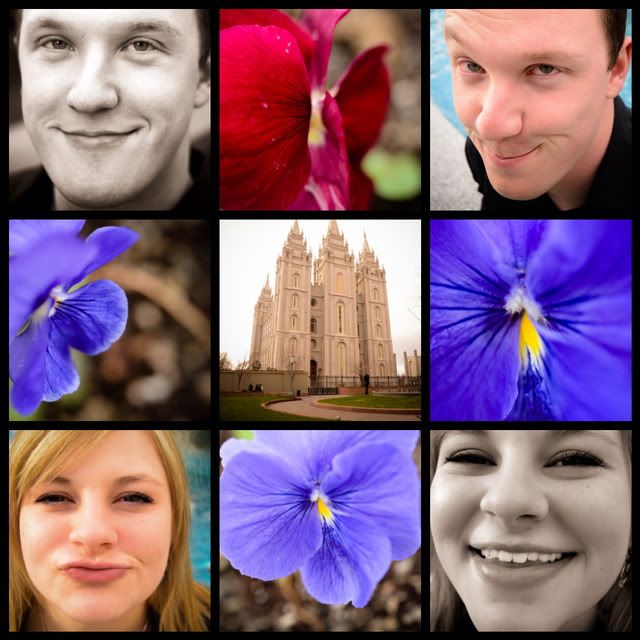 Nathan and I had a wonderful weekend celebrating our 2nd anniversary. We went up to Pictureline and bought a gorgeous new DLSR camera (
Nikon D7000
). Then, we went up to temple square and took some pictures with the awesome new camera.
Later that night we went to the Mayan for dinner. I used to think it was mostly for kids, but surprisingly, the show was very Las Vegas. There were cliff divers, fire dancers, arealists on trapezes and fabric hanging from the ceiling, and lots of fake thunder and lightening :) The food was pretty good Mexican food, but the expensive prices definitely go to the show, not the food. Although, the flan was probably the best I've ever had... I am a sucker for flan! It is definitely not a historically accurate portrayal of Mayan customs and food, but it was a really fun atmosphere that reminded me of the Indiana Jones ride in Disneyland.
There was a "chief" kind of guy in a big head dress and loin cloth walking around from table to table speaking in gibberish, and he had the scariest nipple piercings I have ever seen. Nathan couldn't stop commenting on them... haha. Think large grape-sized steel balls hanging from each little nipple... OUCH. Hahah :P
Anyway, we ended up coming home and watching a couple more episodes of LOST. We've been doing a lot of that lately, but it was what we felt like doing... even if it didn't seem that out of the ordinary or special.
Anyway, Nathan took this picture of me up at temple square illustrating the baby bump at the moment. 23 weeks along!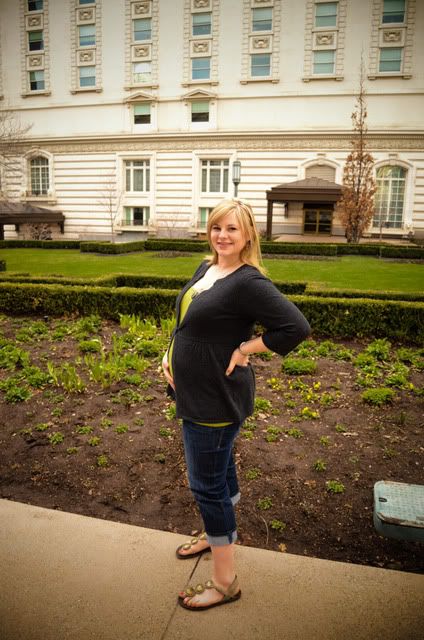 Clint and I also snapped some pictures this weekend for our graduation announcements. Clint and I are both walking in April, and thought it would be fun to send out joint brother/sister announcements to those who know us both. I look surprisingly NOT pregnant in most of these (yay). However, I didn't turn to the side for a reason! Don't get me wrong, I can see a little prego-chub starting to appear in my face, but I don't think it is that obvious yet.

Watch your mailbox for the real deal!