Last weekend was my first out-of-state wedding shoot down in Las Vegas. My business partner and dear friend, the beautiful Jessica Bateman and I made the (quick) trip together. We left Friday morning in my shiny rental car, and arrived at about 5 pm.
We checked into our hotel, the Fitzgerald on Fremont Street in downtown Vegas. It is a pretty standard old-time vegas-y hotel with a giant smelly casino inside, a couple of theaters showing child star has-beens, a buffet, bar, and steakhouse on the second floor, and about 38 floors of rooms (not including the 13th floor. Don't go looking for it. There isn't one.)
If you aren't familiar with Fremont street, it is a pedestrian-only street that is completely covered by a giant canopy-thing that lights up with a neon light show three times each night. They call it the "Fremont Experience". Unfortunately, we hadn't turned our clocks back an hour, so when we went out for the show, it never started. After heading back to our room with intentions of going out later, we promptly fell asleep. Wow, we really know how to rock a Friday night in Vegas ;)
Fremont street holds some pretty interesting memories for me, though. It was on Fremont street, at the tender age of 14, when I saw my first staggering, blubbering, bottle-in-paper-bag-holding drunk. We were in town for my cousin Beverly's wedding, and my dad HAD to see the light show. I believe he had seen it on some travel channel, and after the reception he drug us out there for the 11:15 pm showing. I remember my mom being horrified by the gentlemen's club adverts, but I don't remember anything except the drunk guy. I remember him so clearly, I can even recall what he was wearing. (big, worn green flannel jacket, dirty dirty jeans, brown shoes, black hat.)
Nine years later, Fremont street hasn't changed much. Still full of people staggering around with drinks in their hands, and still smelling very strongly of cigarette smoke. It was still pretty fun, though. We treated ourselves to a nice dinner at a steakhouse in a neighboring hotel, and perused the offerings in the shops. Really though, if you are poor, don't gamble, and don't drink, there really isn't much to do in Vegas. We took a few cheesy snap-shots, held tight to our purses, and lost a few weirdos in the crowds.
I felt a little bit like I was in a Where's Waldo page, though. You know what I mean? Every where you look there are strange characters doing strange things. If walking Fremont street were a Where's Waldo page you could have fun looking for:
1. A show girl dressed entirely in feathers shoving an old man's face into her cleavage
2. Two girls in basketball shorts and wifebeaters fightly loudly over who used the other girl's razor and shampoo (complete with shouting posse)
3. A man staggering around zombie-style dressed up as dead Elvis
4. An Austin Powers impersonator sneaking into other people's photos
5. A large group of sorority sisters walking in a line, loudly singing Katy Perry songs
6. Much much much more.... every where you turn.
Enjoy a few pictures of our adventure: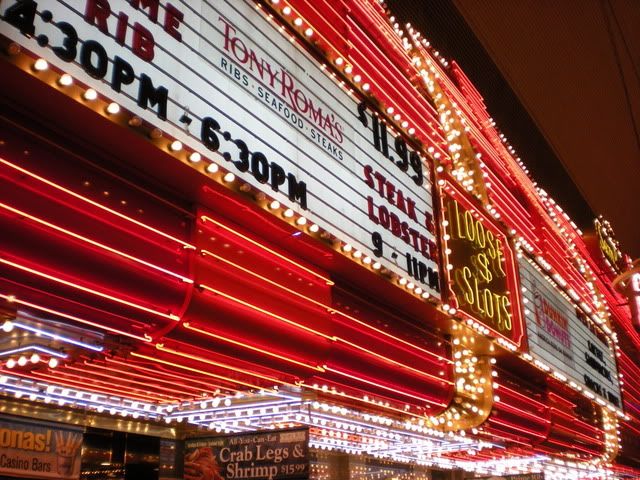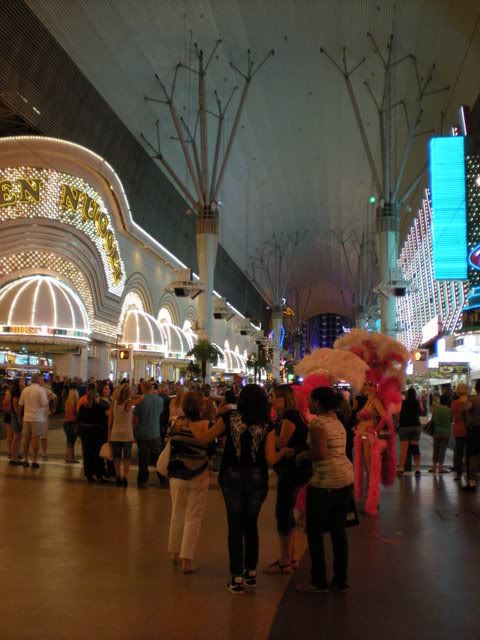 that showgirl is totally posing, and I was pretending not to notice. ha ha.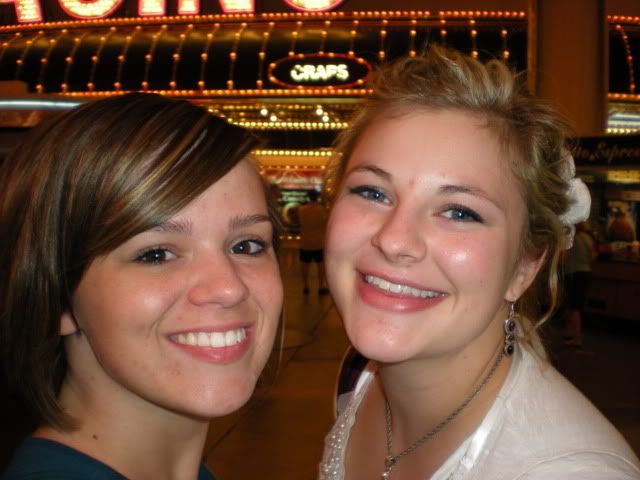 Well, I must go. My honey is waiting for me in bed.
I definitely do not want to keep him waiting :)