Most newly weds (us included) can be compared to gypsies. Every so often, you pack up what little you own and attempt to make a new home in another place. We have been married for a year and a half and this will be our third move. I am definitely the most excited about this one, though!
Look at the beautiful house we are moving into!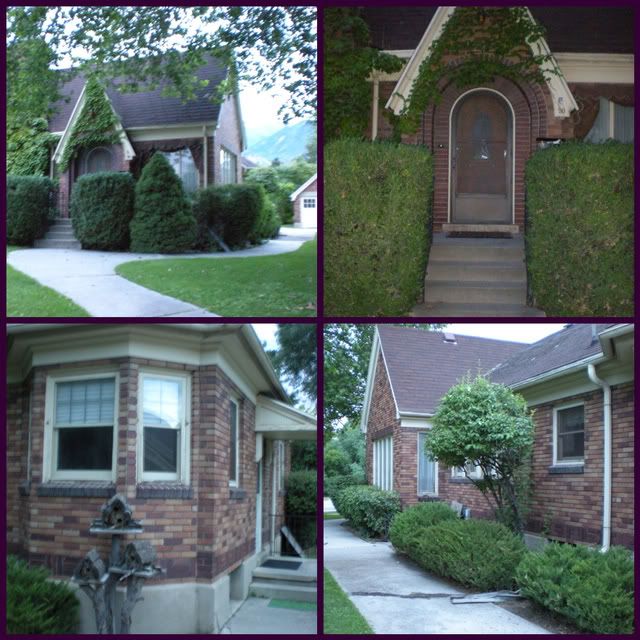 Here is the Kitchen: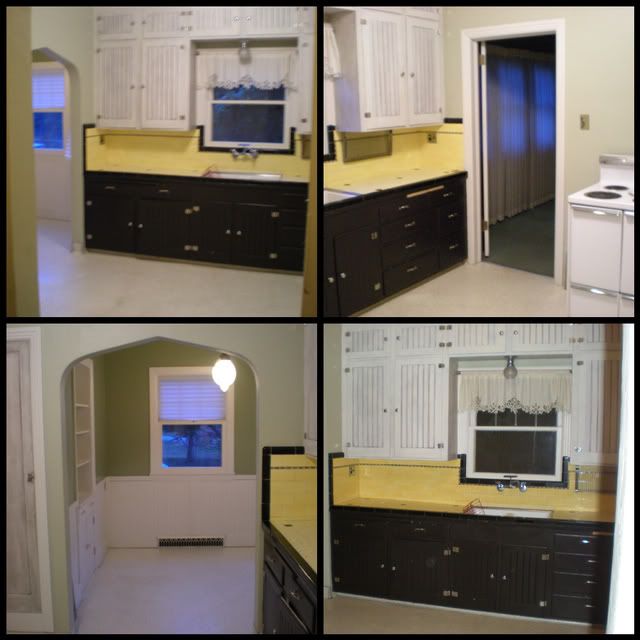 We are going to paint the upper cabinets yellow, and the beadboard inlays in both upper and lower cabinets will be a creamy white. The walls in the kitchen and the wainscoting in the breakfast room will also be the same creamy white. The walls in the breakfast room will be the same yellow as the cabinets. It's going to be adorable! Here is a closer look at the breakfast room:
Isn't that little built-in adorable? That is a little mirror on the bottom shelf! So cute! Also, hello little adorable BUILT IN FRIDGE! So retro, I can hardly stand it.
Below is the little hallway. I like to call it "The Vestibule". It is just way way too cool to be called a boring old hallway. Pfffft. It has a built-in dresser and cupboard, as well as a little built-in table for the telephone to sit on (I didn't get a picture of it though. Next time.) It also has the little trap door for the laundry shoot down to the basement, where the washer and dryer are. Genius!!!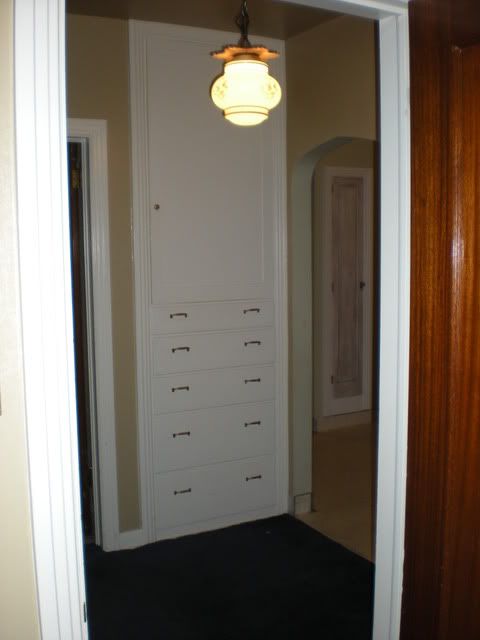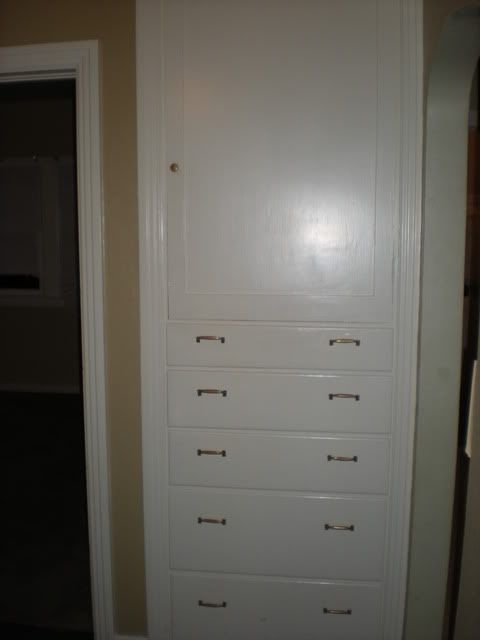 The Vestibule will be painted a beautiful pale blue. It will really brighten up the space, considering it is in the center of the house and does not have the generous natural lighting like the rest of the house. P.s. aren't the lighting fixtures in this house THE BOMB?! Totally art deco. I'm in love.
Here is the Master bedroom. My cousins put in nice new carpet, so that is definitely a plus. We are painting the walls a lovely robin's egg blue. I think it will look fantastic with our dark wood and iron bedroom set. Also, of course some new window coverings are in order.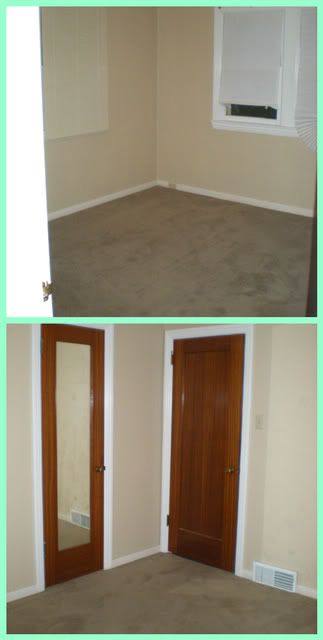 The bathroom needs some serious TLC, but unfortunately, we don't have the $$ to do an overhaul. Plus the original tile is so charming. (Why don't our new homes have this much personality anymore?!). The walls above the tile will be a light green to set off the tile better, and I think I will get a black shower curtain to bring in the black tiles as well. The toilet doesn't match the sink and toilet, but oh well.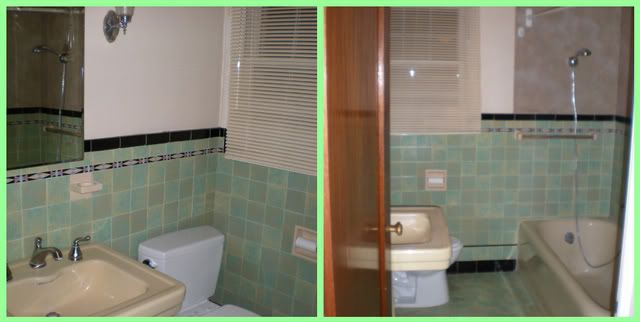 Here is the office/idontknowwhat room. My grandparents used it as TV room, but I want our couch to be in the front room, and I cannot bear to separate the TV from the couch. Sorry. We like to cuddle when we watch movies.
The walls in here will be a lovely milky white (same as the kitchen). The carpet is also coming up, and you can see the wood floor beauties!! Wah wah wah!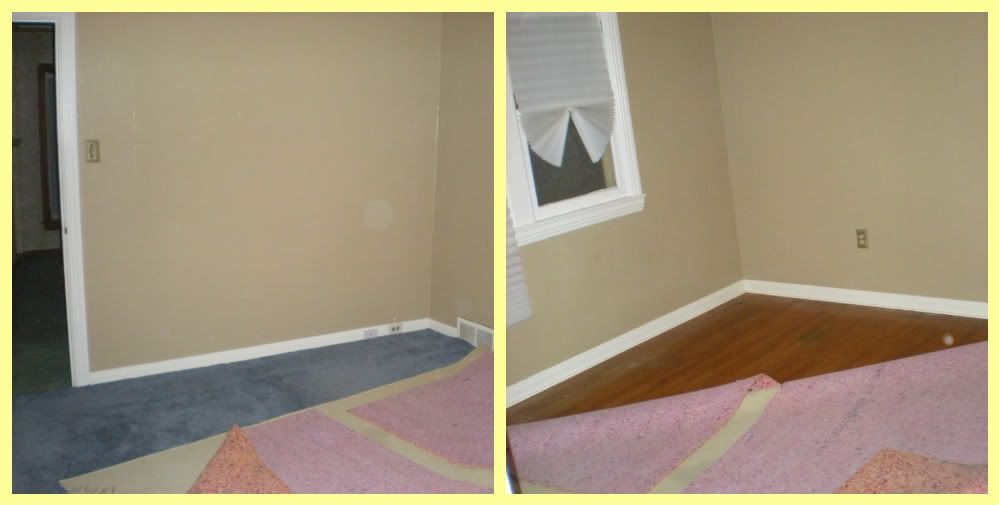 Here is the front room. These pictures really don't do it justice. It has a beautiful vaulted ceiling, and yes it is covered in gaudy wallpaper, but you can only ask so much of poor college students. The wallpaper is staying for now, but we will see what happens next spring ;) The old old old carpet is coming up as well, allowing the wood floors to really shine! I don't think the wallpaper won't be so bad if it is not contrasting against the green. Also the ceiling in this room is wallpapered GOLD. It looks like gold leaf. I will have to get pictures for you next time. Also, please note the little music room off to the left. My grandma's grand piano used to be there.. but now I don't know what to do there. Suggestions anybody?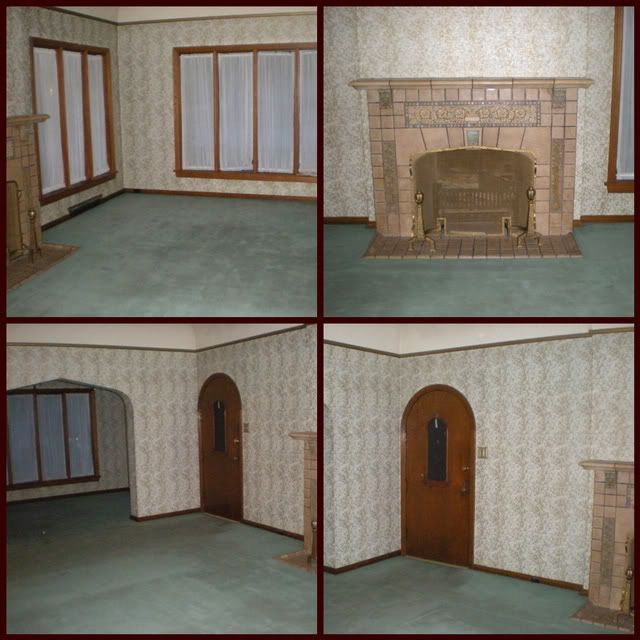 Last on our little tour is the dining room. It is in between the kitchen and the front room. It also has the wallpaper still, but again, the carpet is going. Hurrah.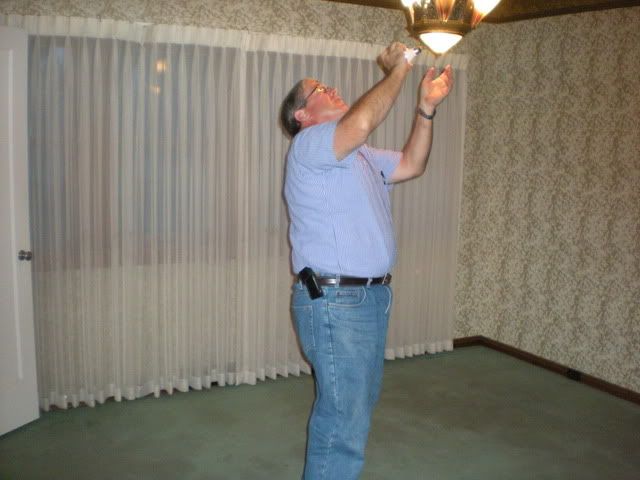 There is also a HUGE basement, but it is in pretty bad condition, so maybe I will take some pictures once we move in and we've organized a bit. It still has a lot of my grandma's stuff down there, but I hope to organize it better and consolidate it into a smaller area. A list of the other rooms downstairs:
1. Bedroom #1 (where Nathan's band will practice. It also has a mideval mural of a princess and knight on the walls right now. My cousin's kids slept down there, and we're contemplating keeping it. It's actually quite cute, and adds a little interest to a dark basement room :)
2. Bathroom (not in working order.)
3. Kitchen (not in working order.)
4. Laundry room
5. Large food storage pantry with built-in cupboards and shelves.
6. Large furnace room (my grandma had a clothesline in here when I was a kid.)
7. Coal room, now used as a holiday decoration storage room. Yes, this house is that old that it has a coal room. You know, to store the coal to heat the house? Of course, sillies.
8. Large family room with fireplace.
9. Bedroom #2 just off of the family room.
This is simply the most charming house I have ever seen, and I am thrilled to be moving in! They really don't build houses like they used to. There are so many cool little features and so much personality!
Although, the man that built this house was such a perfectionist that he did commit suicide after it was finished.
Dang.
Yes, this house is that cool.