Hello there...
Here is a picture of my ever-growing belly at 38 weeks: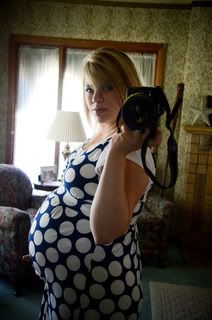 Today I went to the OB, and it was a good visit.
I am currently dilated to 1 cm, and 60% effaced.
My blood pressure was excellent (thank goodness) at 112/62.
Total weight gain since beginning of pregnancy: 25 lbs. (So proud of this.)
Favorite quote from my 70+ year-old doctor:
"What got you into this mess initially may very well be the thing that gets you out of it."
Excuse me... I have to go find my husband now :)